FREEDOM
Multi-caliber, user interchangeability, giving you the same stock to handle, the same optic to look through and the same action to operate. No matter what caliber you're choosing or what field you're in, The HYBRID will help you dominate.
ADVANTAGE
The ultimate in high-tech material selection and rifle design gives The HYBRID a technological advantage so you can carry it further, adapt it to any situation and make that shot when it counts.
ASSURANCE
Military-grade technology, proven to enhance reliability, is scaled down for use in each HYBRID action. This guarantees performance and flawless operation each time, every time, no compromise.
Primary extraction is an extremely underdeveloped but crucial stage of cycling your firearm. Primary extraction is one of the major causes of rifle malfunctions yet the design has not changed significantly in a century. In a conventional bolt action rifle, the primary extraction is conducted in approximately the last 5 degrees of bolt lift. This creates considerable shock loading on your extractor and brass to the point where the extractor can let go and drop the rifle cartridge.
The HYBRID uses an advanced primary extraction system wherein primary extraction is achieved throughout the entire 90 degrees of bolt lift. This spreads the load over a range 18x greater than conventional design in turn reducing the stress on the fired brass and your extractor while increasing reliability.
One of the most amazing features of The HYBRID is that it is completely modular while extremely user friendly. The barrels are easily removed and replaced – this is done with simple tools and without the requirement to check head space with gauges. The bolt heads are easily swapped out, again with basic tools that are provided. This gives you, the end user, the ability to use one rifle for all applications. You can choose to set the rifle up specifically for PRS with a heavy steel barrel and then do a complete caliber change that afternoon with a carbon wrapped barrel for hunting the hills all in a matter of minutes and in the field or at home.
LIGHTWEIGHT OPTIMIZED DESIGN
The HYBRID is not only a blend of features but also of materials. We are able to optimize the weight of each component based on it's application with aterials such as:
4140 alloy steel
H13 Hot work die metal
Chrome silicon
7075 T6 aluminum
Carbon fiber composites
This has given us the ability to optimize each portion of the action and as a result, we are able to construct the heart of your rifle considerably lighter, stronger, and with far greater optimized features.
WEIGHT
24″ carbon wrapped barrel – 6.7lbs
Includes bolt & magazine, excludes optic & bipod
TRIGGER
User adjustable from 1-3.5lbs
CALIBER RANGE
A large range from .223 Rem to .338 Lapua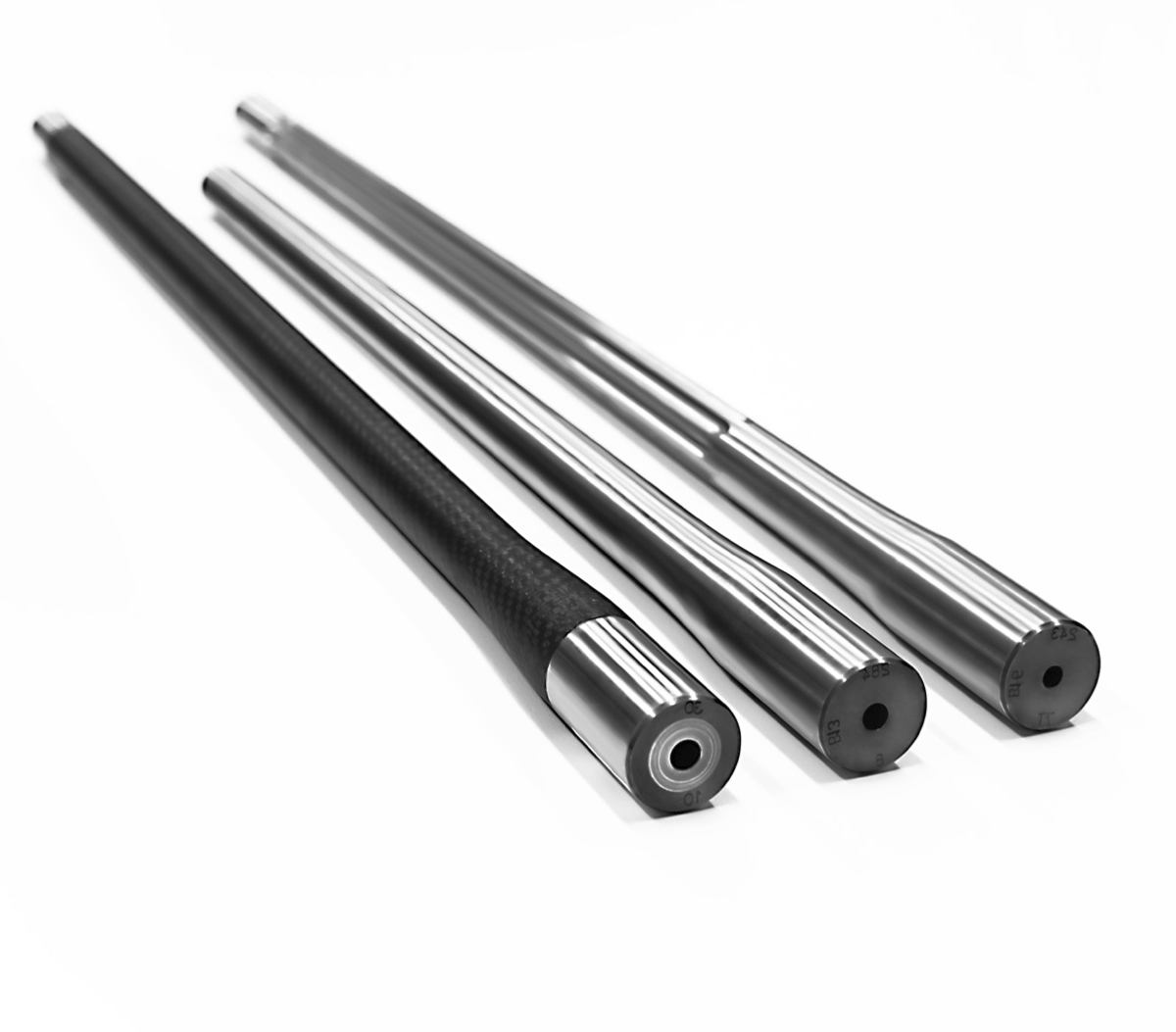 YOU MAKE THE SHOT. IT'S OUR JOB TO MAKE IT COUNT
BARRELS
A combination of the finest materials & engineering expertise. Significant research, testing and evaluation has produced match grade barrels of world class quality. Hardy barrels are manufactured for the global market with stringent processes to meet and exceed SAAMI and CIP exacting standards. Discerning hunters and competition shooters are achieving results that can only be expected from the finest in world class barrel craftsmanship. All barrels are:
CNC gun drilled for ultimate precision
Spill bore reamed for extreme consistency
Precision rifled for the utmost control
Hand lead lap finished for that match winning detail
For more info about The HYBRID, visit Hardy's website.